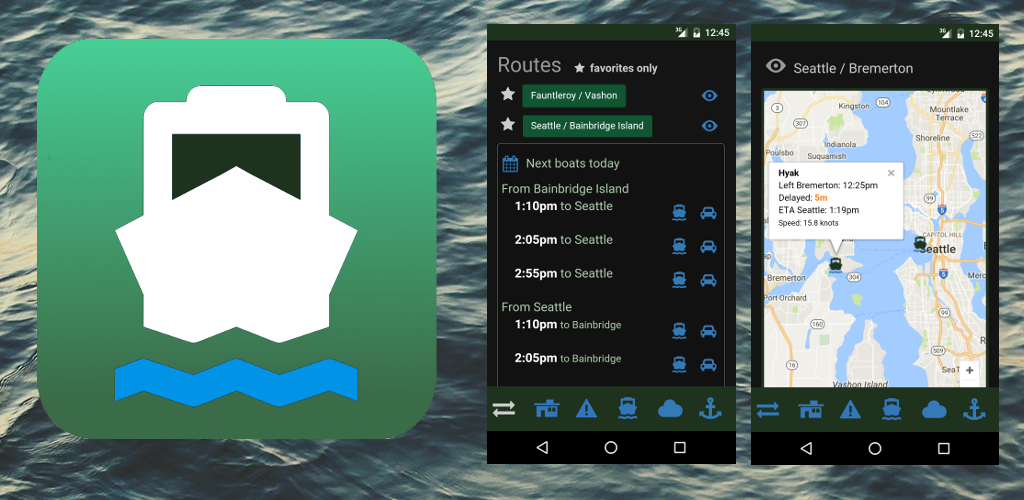 A perfect utility for the Washington State traveler, nextboat strives to make life easier one ferry ride at a time. Commuters and ferry enthusiasts alike can keep on top of the latest ferry-system status to make voyages as smooth and profound as Puget Sound on a windless day.
nextboat sports eight different views into the Washington State Ferry (WSF) system to accomplish a number of tasks.
view ferry schedules based on favorite terminals and routes.
receive notifications when your favorite routes are delayed.
select favorite terminals or routes to reduce visual clutter.
view ferry cameras and current sailing space for your favorite terminals.
use the vesselwatch view for current vessel locations and status,
use the vessels view to learn obscure historical and technical facts about the WSF fleet.
use the alerts view for access to WSF tweets, alerts and bulletins
use the WSF links view for convenient access points to the WSF web site.
use the anchor view for in-app help and usage tips.
nextboat
relies upon internet access to WSF servers to obtain up-to-date status information. We employ caching strategies to improve responsiveness and reliability, but capabilities are impaired when internet access is unavailable.
nextboat is available for both iOS (via the Apple Store) and Android (via the Google Play store)
Privacy Policy
In order to support nextboat's notification capability, we gather your notification preferences as well as your phone identifier. We believe that your privacy is paramount and thus don't use any information we gather for any reason other than to deliver the services you request. We don't share any of the information we gather with third parties.